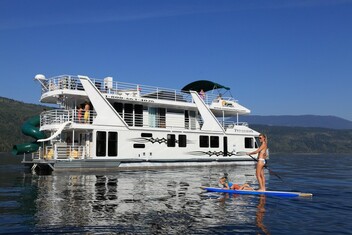 Trademarked as the Houseboat Capital of Canada, Sicamous offers the unique experience of houseboating that welcomes thousands of visitors each year.  Shuswap Lake is one of the most popular recreational destinations in BC and offers more than 1000 kilometers of shoreline to explore.  This activity is a great way to vacation with family and friends, lazily drifting along the lake, taking in the gorgeous mountain views. Each night, build a campfire on the beach and watch the beautiful sunset, then stargaze from your upper deck hot tub.
Where some focus on the peaceful, relaxing and calm...others are passionate about the exhilaration, awe, fun, excitement and adventure.
THERE ARE ENDLESS ACTIVITIES AND EXPERIENCES FOR VACATIONERS OF ALL AGES:
Rent a paddle board or kayak from one of our Sicamous vendors to take on the houseboat
Bring your diving gear to explore the NINE dive sites on Shuswap Lake
Pull your houseboat up to Hyde Mountain Golf Course dock and shoot a round before dining on their outdoor patio
Take in some beautiful waterfalls - Margaret Falls & Albas Falls are a quick walk from where you beach your houseboat
Feeling thirsty? Hit the Sea Store & the Shark Shack: floating convenience store and restaurant located in the Narrows, where the 4 lake arms converge. You can also park at a variety of lakeside restaurants and pubs located in the Channel & Old Town Bay
Enjoy a winery tour at Sunnybrae Winery, where you can pull your houseboat up to the beach and taste some amazing local wines
Bring your mountain bike and explore the bike trails accessible by houseboat that will challenge the mind & body
Keep your eyes open for the Indigenous Pictographs still visible on the rock cliffs around the lake
Contact Twin Anchors Houseboat Vacations, Sicamous Houseboats or Bluewater Houseboats to book your next houseboat vacation in the Shuswap!!