Back to all news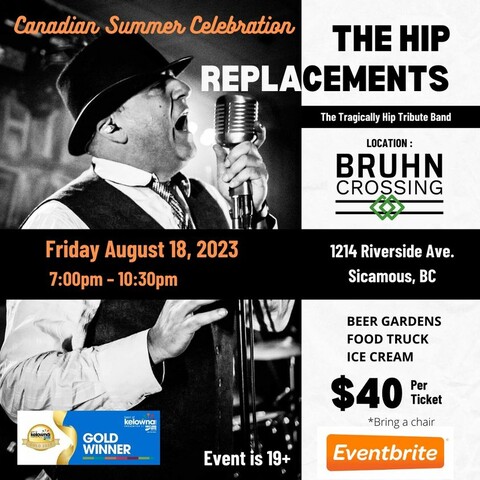 The Hip Replacements Live at Bruhn Crossing - August 18, 2023
The Hip Replacements will be performing at Bruhn Crossing from 7 to 10:30 p.m. on August 18!
Experience the full Tragically Hip experience with the phenomenal tribute band, the Hip Replacements. As the ultimate Hip fans, these professional musicians are celebrating 20 years of playing sold-out shows across Western Canada and providing audiences with all the energy and musicianship the Hip is known for!
The band is passionate about capturing the nuances and spirit of the original Hip performances including the rants, stories and all the songs of the Tragically Hip.
Bruhn Crossing will be transformed into a licensed and gated venue with beer gardens, food trucks and ice cream. You have to be 19+ to get in - ID will be checked at the gate! Bring a lawn chair so that you can settle in and enjoy the Hip Replacements.