Back to all news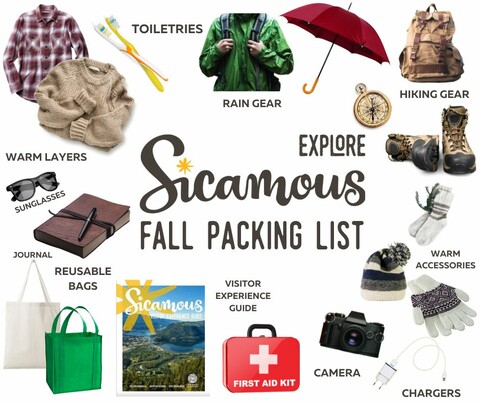 Fall adventure packing list
Heading to Sicamous for a fall adventure? Don't forget these essentials to make the most of your trip!
Layered Clothing: Fall weather can be unpredictable. Pack a mix of lightweight and warm layers, including sweaters and long-sleeve shirts.

Rain Gear: Be prepared for wet weather with a waterproof jacket, footwear and a travel-sized umbrella.

Sturdy Footwear: Comfortable hiking boots or shoes with good traction are a must for exploring trails and enjoying outdoor activities.

Hats and Gloves: Keep your head and hands warm with hats and gloves to stay cozy during chilly mornings and evenings.

Warm Accessories: Scarves and cozy socks can make a big difference in keeping you warm and comfortable.

Backpack: A daypack is perfect for carrying essentials like water, snacks, a first aid kit, and a small camera.

Hydration and Snacks: Stay energized with a refillable water bottle and trail mix, granola bars or fresh fruit.

Navigation Tools: A map, compass, or a GPS device can be handy for exploring trails or finding your way around.

Camera and Binoculars: Capture the stunning fall scenery and spot wildlife with a camera and binoculars.

Chargers and Power Banks: Keep your devices charged to stay connected and capture those Instagram-worthy moments (don't forget to tag us @ExploreSicamous!).

First Aid Kit: Pack basic first aid supplies for minor injuries or discomfort.

Sunglasses: Even in fall, UV protection is important, especially on sunny days.

Personal Toiletries: Remember essentials like sunscreen, insect repellent and any medications you might need - don't forget your toothbrush!

Local Maps and Information: Grab local maps and brochures from visitor centers to enhance your exploration! The Sicamous & District Visitor Centre is located at 446 Main Street, Sicamous.

Entertainment: Pack a book, a journal or some travel-friendly games to unwind during downtime.

Reusable Bags: Useful for gathering souvenirs, groceries or any unexpected finds.
Remember that fall weather can vary, so be prepared for a mix of sun and rain. With these essentials in your backpack, you'll be all set to enjoy the beauty of Sicamous during your fall adventure!